I highly recomend you bring an activated one!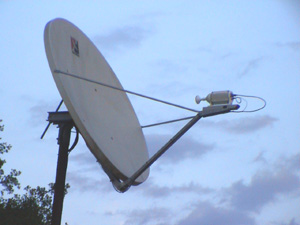 Hughes Internet Dish
The computer industry requires a great deal of experience. Installing new systems and servicing existing systems are a significant part of computer needs.

Here are some services offered:

-- Installing Satellite Internet Services using HughesNet (Pic above)

-- Installing Wireless Internet Communities

-- Web Page Creation and maintenance

-- Computer Hardware and Software Advice

-- Business Technology Solutions

-- Advertising Technology

-- Informational Knowledge of Mexico via the internet for the purpose of living here full or part time.

-- Rebuilding of your Desktop Computer.

--ANTENNA OFFSET - 2.4M - FIBER GLASS - MADE IN MEXICO

Details:

This is 2.4 meters and is the best antenna (pic below) for US and Canadian domestic DirecTV, Dish Network, or FTA... use in southern Mexico and Central America. LNB's, RECEIVERS and other parts are also available.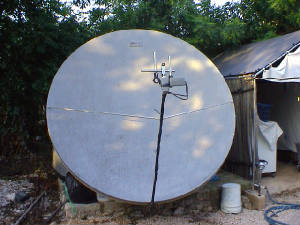 My 2.4 Meter Dish with 2 lnbs using a magic bracket 3
LNB w/Dual Output

Circular type (LO Freq 11250) 101º, 110º , 119° , 61.5º, 110º, 119º, 129º, 148º
Satellite Receiver for DISH, BELLVIEW or FTA

Viewsat 2000 ultra
For purchase and delivery of above TV products (Prices do not include setup, activation/updates) Click here!